Michael Kay, M.D.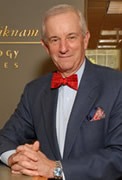 Dr. Michael Kay is a board certified Ophthalmologist who grew up in Brooklyn, but moved to Philadelphia for his training. He and his wife Bonnie liked Philadelphia so much they stayed to raise their family here.
He is a general Ophthalmologist who specializes in cataract surgery, using the latest techniques of no stitch cataract surgery, and offering the latest in Intraocular lens technology including lenses to correct astigmatism and near and far vision. He is the founding partner of Kay, Tabas & Niknam Ophthalmology Associates.
Education
Dr. Kay attended Cornell University as an undergraduate and Medical School at the University of Pennsylvania. After two years serving in the Army, including a year in Vietnam as a battalion surgeon, he returned to Philadelphia to take his Ophthalmology Residency at The University of Pennsylvania with world famous Dr. Harold Scheie. He was chosen to be Chief Resident in his last year of training. He is presently a Senior attending surgeon at Wills Eye Hospital, where he is actively teaching residents in surgical technique,
He has been named several times in Philadelphia Magazine's Best Doc Survey and has been awarded the people's choice "best Ophthalmologist on the Main Line" by the Main Line Times.
Experience
Dr. Kay feels very fortunate to have built a practice with outstanding, caring doctors who always put the needs of their patients first. The practice doctors have specialties in almost all areas of Ophthalmology and operate and actively teach at Wills Eye Hospital.