PRK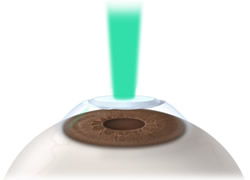 Photorefractive keratectomy, or PRK, is a laser vision correction procedure that reshapes the cornea to correct mild to moderate conditions of:
Nearsightedness, or myopia
Farsightedness, or hyperopia
Astigmatism
PRK uses an excimer laser to remove a small amount of the anterior portion, or front, of the cornea to correct refractive errors. Unlike the LASIK procedure, where a flap is created to access the cornea, PRK removes the epithelial, or outer layer, of the cornea so that it can be reshaped with an excimer laser to remove tissue from the surface. This process flattens the cornea and achieves the corneal steepening needed for vision correction.
Advantages of the Photorefractive Keratectomy Procedure
The PRK procedure provides the surgeon with greater control over the location and amount of tissue being removed, which allows patients to enjoy much more accurate results. The PRK method involves gently sculpting the cornea rather than cutting, allowing the surgeon to treat greater degrees of nearsightedness, as well as farsightedness and astigmatism.
Up to 95 percent of patients with a correction of up to -6.00 diopters achieved a vision of 20/40 or better after PRK, with up to 70 percent achieving 20/20.
Some of the advantages of the PRK procedure include:
Less depth of laser treatment
Patients with thin corneas are eligible for PRK
No corneal flap complications
Results of the Photorefractive Keratectomy Procedure
The results of PRK are considered comparable to those of LASIK, although some patients may experience vision of only 20/40, and others may still need glasses or contact lenses after their procedure. PRK does not correct presbyopia, a natural change in the eyes that affects everyone over the age of 40, so patients that need reading glasses will continue to need them after surgery. It is important for patients to maintain realistic expectations in order to be satisfied with the results of PRK.