Janine Tabas, M.D.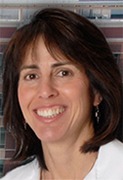 Dr. Janine Tabas is board certified in opthalmic medicine and surgery. She practices comprehensive ophthalmology with a special interest in cataract surgery and premium intraocular lenses. She is committed to helping her patients achieve the best possible vision after cataract survey and minimizing dependency on glasses. She herself has had LASIK refractive surgery, and enjoys excellent vision without glasses. In her spare time, Dr. Tabas is an avid tennis player, and competes on the tournament level.
Education
Dr. Tabas graduated cum laude from Dartmouth College in 1985. She earned her medical degree with Honors from the Medical College of Virginia in 1989. There she served as chapter president of AOA, the National Medical Honor Society. Her internship in Internal Medicine was completed at the Graduate Hospital in Philadelphia in 1990. Dr. Tabas' attended the residency program at the prestigious Wills Eye Hospital in Philadelphia for her ophthalmic training, which she completed in 1993.
Experience
After her ophthalmology residency in 1993 Dr. Tabas joined Dr. Michael Kay in private practice, working in both the Center City and Bala Cynwyd office locations. In addition to seeing private office patients, she has remained very active at Wills Eye Hospital, and has earned Attending Surgeon status in the Cataract and Primary Eye Care Department. She teaches ophthalmic residents both in the clinic setting and operating room.
In addition to Wills Eye Hospital, Dr. Tabas is affiliated with Jefferson Medical College in Philadelphia, Lankenau Hospital in Wynnewood, and the Main Line Surgery Center in Bala Cynwyd.
She is board certified in ophthalmology, and a member of the American Academy of Ophthalmology, the American Society of Cataract and Refractive Surgery, and the Pennsylvania Medical Society.