New Cataract Technologies
LenSx Femtosecond Laser Cataract Surgery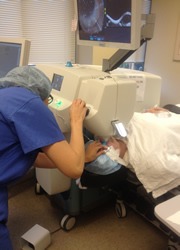 The LenSx® Laser is a fully-integrated, image-guided femtosecond laser designed specifically for refractive cataract surgery. Using a customizable 3-D surgical platform, it allows the surgeon to visualize, customize and perform many of the most challenging steps of cataract surgery with the laser itself, rather than with blades or needles. This allows for more predictable, and accurate results for the patient.
We are proud to announce that our own Dr. Rachel Niknam, MD was the first woman ophthalmologist in the state of Pennsylvania to use the LenSx laser for cataract surgery!
---
ORA-Wavescan
Advanced cataract surgery incorporates technologies that can increase the accuracy of the procedure and lead to better visual outcomes. The use of advanced lens removal technologies and premium IOLs that can correct for presbyopia and astigmatism mean that you can not only regain clear vision, but you may be able to enjoy the crisp, vibrant vision you had when you were younger, with less dependency on glasses.
The ORA System guides the use of these advanced technologies by using intraoperative wavefront aberrometry to allow your surgeon to ensure the IOL is perfectly selected and perfectly placed, which helps give you a better visual outcome.
Wills Eye Hospital is one of the only locations in our area to have the ORA technology, and it is currently being used by our cataract surgeons.
---
Femtosecond Bladeless Lasik Refractive Surgery
When performing bladeless LASIK, our doctors use a gentle laser to create the corneal flap. This advanced technology using the IntraLase Laser allows the surgeon to better customize the corneal flap for each patient. As the name implies, no blades are used in this kind of laser eye surgery.
After the flap is created, Wavefront-guided technology is then used to further customize each patient's vision correction treatment for optical results. Treating a LASIK laser eye surgery patient with the data obtained from the wavefront analyzer can result in greater clarity of vision and fewer complaints of glare or night halos post-operatively.
---
OCT Ocular Imaging System

Optical Coherence Tomography (OCT) is a non-invasive diagnostic technique using inferometry that images a cross sectional view of the eye. The test is done quickly in the office, without the need for dilating drops on many occasions. Photos acquired from the OCT assist our doctors in diagnosing disorders of the eye which involve the retina, anterior chamber, and optic nerve. This optimizes treatment of such disorders and macular degeneration, macular pucker, diabetic retinopathy, and glaucoma.
Our office has the latest technology OCT machine in each of our offices.